Halloween is just around the corner, and what better way to get into the spooky spirit than with some bewitching coffee drinks? Whether you're looking to host a Halloween party or just want to enjoy a festive beverage, there are plenty of spooky coffee recipes to try. From creepy lattes to ghostly frappuccinos, these Halloween coffee drinks are sure to satisfy your caffeine craving while adding a touch of spookiness to your day.
Key Takeaways
Discover various spooky coffee recipes to try this Halloween season
Add a touch of spookiness and excitement to your celebrations with Halloween coffee drinks
From ghostly coffee creations to seasonal coffee concoctions, there's something for everyone to enjoy
Brew up wickedly good espresso drinks or try some chillingly refreshing cold brew creations
Embrace the spirit of Halloween with festive coffee drinks and make your celebrations more memorable
Exploring the World of Halloween Coffee Drinks
If you're a coffee lover, you know that there's nothing quite like a festive coffee beverage to get you in the spirit of the season. Halloween-themed coffee drinks are no exception, and they can add a touch of spookiness to your morning cup of joe. From pumpkin spice lattes to candy corn cappuccinos, there are so many festive coffee beverages to explore during the Halloween season.
One of the things I love about Halloween-themed coffee drinks is how they can transport you to a different world. The flavors and aromas can instantly evoke memories of crisp fall evenings, cozy sweaters, and the excitement of Halloween. There's just something about a steaming hot beverage with a touch of cinnamon or nutmeg that makes you feel warm, fuzzy, and ready to embrace the season.
Another great thing about these festive coffee beverages is how creative and fun they can be. Coffee shops and home baristas alike have come up with some truly inventive recipes, incorporating everything from ghostly latte art to candy eyeballs as garnishes. You never know what you might find when exploring the world of Halloween coffee drinks.
So this Halloween season, embrace the spooky vibes and try out some festive coffee beverages. Whether you stick with a classic pumpkin spice latte or branch out and try something new, there's no better way to start your Halloween mornings off on the right foot.
Tricks and Treats: Seasonal Coffee Concoctions
This Halloween, spice up your daily caffeine routine with seasonal coffee concoctions. Pumpkin Spice Lattes are a classic choice, combining espresso, steamed milk, pumpkin puree, cinnamon, nutmeg and cloves for peak fall flavor.
For an adventurous twist, try a spooky Monster Mocha with chocolate syrup, espresso, milk and creepy gummies. Or channel the flavors of autumn with a Caramel Apple Latte, bringing together apple cider, caramel and espresso.
Don't forget to enjoy Cold Brew too! Mix in pumpkin spice syrup or top with candy corn for a festive treat.
These fun Halloween coffee recipes are the perfect way to indulge in festive flavors this season. Get creative with your brews and make your mornings a little more spirited.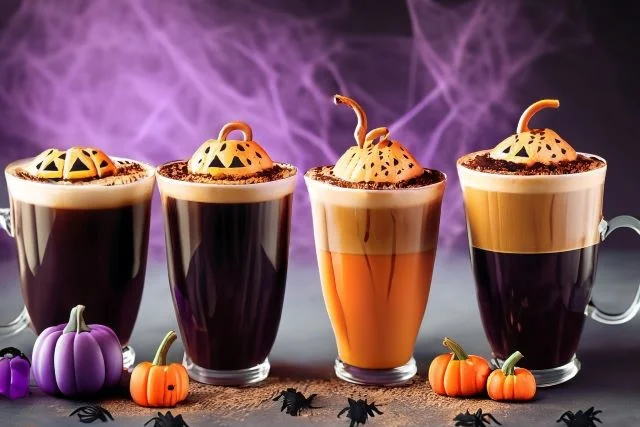 Hauntingly Delicious Ghostly Coffee Drinks
Get ready to be spooked and thrilled with these creepy coffee creations featuring ghostly coffee drinks that are sure to satisfy any caffeine cravings. From ghost-shaped latte art to eerie flavor combinations, these bewitching brews will make your Halloween experience unforgettable.
Ghost Cappuccino
First up, we have the Ghost Cappuccino, a hauntingly beautiful coffee drink that you won't be able to resist. The ghostly effect is created by using activated charcoal powder to turn the milk black, creating the perfect base for the ghost-inspired latte art. This spooky drink is not only visually stunning but also delicious, with a rich espresso undertone that will keep you coming back for more.
Ghost Cappuccino Recipe:
Ingredients:
Instructions:
– Espresso
1. Brew a shot of espresso and set it aside.
– Milk
2. Heat up milk in a frothing pitcher and add activated charcoal powder until the milk turns black.
– Activated Charcoal Powder
3. Froth the milk and pour it over the espresso shot.
Witches' Brew Mocha
Next up, we have the Witches' Brew Mocha, a devilishly decadent coffee drink that will send shivers down your spine. This drink features a classic mocha base with a spooky twist, including a pinch of cayenne pepper and a sprinkle of black sea salt to recreate the flavor of witches' brew. Top it off with marshmallow ghosts and you have the perfect Halloween-themed coffee.
Witches' Brew Mocha Recipe:
Ingredients:
Instructions:
– Espresso
1. Brew a shot of espresso and set it aside.
– Chocolate Syrup
2. Mix chocolate syrup and a pinch of cayenne pepper in a cup.
– Milk
3. Heat up milk in a frothing pitcher and froth until it reaches a creamy consistency.
– Black Sea Salt
4. Pour the frothed milk over the chocolate mixture and top it off with black sea salt.
– Marshmallow Ghosts
5. Garnish with marshmallow ghosts and enjoy!
Creepy Caramel Macchiato
Finally, we have the Creepy Caramel Macchiato, a hauntingly delicious coffee drink that will satisfy any sweet tooth. This drink features a classic caramel macchiato base with a spooky twist, including a drizzle of red food coloring to recreate the look of blood. Top it off with whipped cream and a sprinkle of crushed cookie crumbles, and you have the perfect Halloween-themed coffee.
Creepy Caramel Macchiato Recipe:
Ingredients:
Instructions:
– Espresso
1. Brew a shot of espresso and set it aside.
– Caramel Syrup
2. Mix caramel syrup in a cup.
– Milk
3. Heat up milk in a frothing pitcher and froth until it reaches a creamy consistency.
– Red Food Coloring
4. Pour the frothed milk over the caramel mixture and drizzle red food coloring on top.
– Whipped Cream
5. Top it off with whipped cream and a sprinkle of crushed cookie crumbles.
So there you have it, some ghostly coffee drinks that will elevate your Halloween experience. These creepy coffee creations are perfect for any Halloween-themed party or celebration, and are sure to impress your guests. Happy haunting!
October Coffee Specials to Satisfy Your Cravings
During the Halloween season, coffee shops offer limited-time October coffee specials to satisfy the cravings of coffee enthusiasts. From pumpkin-flavored beverages to spooky blends, there's something for everyone to enjoy.
If you're a fan of pumpkin spice, you won't be disappointed with the pumpkin spice latte or the pumpkin spice frappuccino. These classics have become synonymous with the Halloween season and are sure to get you in the festive spirit.
If you're feeling adventurous, try the caramel apple macchiato or the caramel apple cider. The combination of sweet caramel and tangy apple will tantalize your taste buds and provide the perfect autumn-inspired drink to enjoy on a crisp fall day.
For those who prefer their coffee with a spooky twist, the vampire's kiss latte or the witch's brew coffee are popular October coffee specials. These fun and creative drinks are sure to add a touch of excitement to your Halloween celebrations.
Don't forget to check out your local coffee shops for unique and exclusive October coffee specials. You never know what delicious and spooky creations they may have in store for you.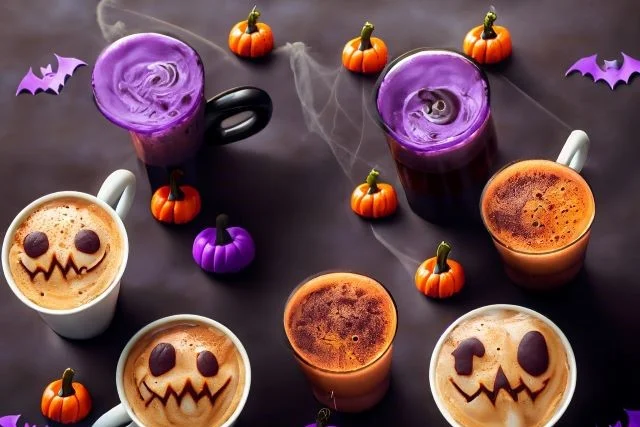 Brewing Up Wickedly Good Espresso Drinks
This Halloween, create delightfully wicked twists on your daily espresso. For classic flavors, incorporate pumpkin spice or caramel apple syrups. Or get creative with spooky latte art using frothed milk to make ghosts, spiders or jack-o-lanterns.
For an exciting experience, transform your espresso into chilling cocktails. Concoct a "Devil's Espresso Martini" or "Witch's Brew Espresso" with different liquors, flavors and garnishes.
The key is letting your imagination run wild. Experiment with unique ingredient combinations, artful designs, and spine-tingling names. With some creativity, you can easily brew up frighteningly delicious wickedly good espresso drinks that will make your Halloween celebrations extra spirited.
So this Halloween season, give your regular espresso a supernatural makeover. A dash of cinnamon, creepy latte foam art, or an indulgent cocktail recipe can turn any coffee break into a wickedly good time.
Spine-Tingling Cold Brew Creations
This Halloween, chill out with some spine-tingling cold brew creations – they're a refreshing twist perfect for the season.
The Blood Orange Cold Brew combines tart citrus and a deep red hue for an ideal spooky sip. Brew up the strong, dramatic Black Widow Cold Brew with espresso, activated charcoal powder, and honey for a frightening kick.
For classic fall flavors, mix pumpkin spice syrup into cold brew coffee with a splash of creamy milk for a Pumpkin Spice Cold Brew.
Get inspired and experiment with your own chilling flavors and colors to invent deliciously frightening cold brew creations. Try mixing in vanilla, chocolate or caramel syrups. Add festive garnishes like candy corn or spiderweb designs in the foam. The options are endless!
Cold brew is the perfect drink to sip on during warm Halloween weather. With some creativity and spooky twists, you can conjure up haunted treats that will send a chill down your guests' spines this Halloween!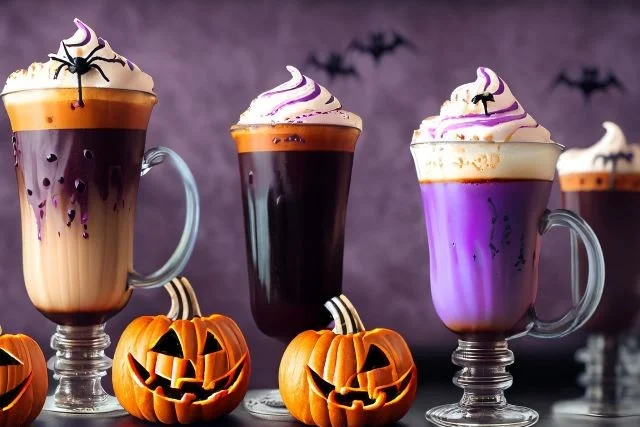 Ghoulishly Good Pour-Over Coffees
For a ghoulishly good cup of coffee this Halloween, try your hand at pour-over coffee. Start with freshly roasted beans ground to a medium-fine texture. Place a filter in the pour-over cone and wet it to remove the paper taste.
Slowly pour hot water over the grounds in a circular motion, saturating without overflowing. Savor the rich aroma as the dark liquid fills your cup. The meticulous pour-over process creates a magical tasting experience.
Take your pour-over coffee up a notch with spicy flavors like cinnamon and nutmeg or indulgent toppings like whipped cream and caramel.
Hand-crafted pour-over coffee adds a sophisticated touch to your Halloween celebrations. Appreciate the artisanal taste and aroma of this chillingly good brew.
Sinisterly Sweet Syrups and Sauces
This Halloween, channel your inner witch and brew up spooky coffee potions. Sweet syrups and sauces are the key ingredients.
A dash of pumpkin spice syrup adds autumnal flavor to lattes and cappuccinos. Drizzle on tangy caramel apple sauce to macchiatos for a festive twist.
Chocolate syrup can transform any drink into a decadent mocha. Raspberry syrup blends in frightful fruity flavors.
With the right spellbinding sweet syrups and sauces combination, these additions will awaken your taste buds. They infuse any ordinary coffee with excitement.
Let your creativity flow to concoct personalized potions. Make your taste buds excited for the haunting Halloween season!
Monster Mashups: Blending Flavors with Frightening Results
As a coffee lover, I've always been fascinated by the art of blending flavors. There's something magical about combining different ingredients to create a completely new taste sensation. And when it comes to Halloween coffee drinks, the possibilities for flavor mashups are practically endless.
Blending flavors can be a daring experiment, but it's all part of the fun. One of my favorite monster mashups involves adding a shot of cinnamon syrup to a pumpkin spice latte. The cinnamon adds a spicy kick that perfectly complements the creamy sweetness of the pumpkin spice.
Another fun flavor combination is adding a touch of peppermint syrup to a mocha. The cool minty flavor is a perfect contrast to the rich chocolatey goodness of the mocha.
If you're feeling really adventurous, try adding a dash of cayenne pepper to your espresso shot for a spicy kick that's sure to wake up your taste buds.
When it comes to blending flavors, the key is to experiment and have fun. You never know what kind of deliciously spooky concoction you might come up with.
Creating Your Own Monster Mashups
If you're feeling creative, try coming up with your own monster mashups at home. Here are a few tips to get you started:
Start with a basic coffee drink, like a latte or a cappuccino.
Think about flavors that complement each other, like chocolate and raspberry.
Add a small amount of flavor syrup or extract to your coffee for a subtle hint of flavor.
Experiment with bolder flavors, like spices or hot sauces, in small amounts until you find the right balance.
Have fun and don't be afraid to try something new!
With a little creativity and a lot of imagination, you can create your own Halloween coffee drinks that are sure to be a hit with your friends and family.
"Blending flavors can be a daring experiment, but it's all part of the fun."
Warming Up with Spooky Hot Chocolates
This Halloween, indulge in deliciously decadent spooky hot chocolate. Start with a creamy, rich cocoa base and customize it with your favorite festive flavors.
Add cinnamon, nutmeg and marshmallows shaped like ghosts or pumpkins for an autumnal vibe. Or use dark chocolate for bitterness balanced with sweet toppings.
For an extra spooky touch, add black food coloring or top with whipped cream spiderwebs.
Customized with Halloween inspirations, these chilling hot chocolates are the perfect treat for cooler autumn nights and spooky celebrations. Their spellbinding flavors will warm you up with a touch of magic.
Pumpkin Spice and Everything Nice
When it comes to Halloween coffee drinks, one flavor that cannot be ignored is pumpkin spice. This iconic fall flavor has become synonymous with the Halloween season, and for good reason.
Pumpkin spice coffee drinks are a perfect blend of warm, comforting flavors that evoke the cozy feeling of autumn. The combination of pumpkin, cinnamon, nutmeg, and clove creates a delicious and aromatic experience for your taste buds.
Whether it's a pumpkin spice latte, a pumpkin spice cappuccino, or a pumpkin spice cold brew, this flavor is a must-try during the Halloween season. Many coffee shops offer their own unique twist on the classic pumpkin spice drink, so be sure to explore and find your favorite.
Aside from being delicious, pumpkin spice drinks also add a touch of festive color to your Halloween celebrations with their vibrant orange hue. And let's not forget the adorable pumpkin latte art that often comes with it, adding a perfect touch of Halloween cuteness to your drink.
So, if you're a fan of fall flavors and want to embrace the spirit of Halloween, be sure to indulge in a pumpkin spice coffee drink this season.
Embracing the Spirit of Halloween with Coffee
Halloween brings thrilling excitement, from haunted houses to horror movies. But one of the most enjoyable ways to embrace the holiday is through festive coffee drinks.
Indulging in spooky, creative coffee concoctions adds magic to Halloween celebrations. Ghostly lattes and pumpkin spice espresso shots create a cozy, nostalgic atmosphere fitting the holiday vibe.
Festive coffee drinks allow us to tap into our inner child and imagine the playful spirit of Halloween. These serve not only taste delicious but also provide a fun, unique way to celebrate with family and friends.This Halloween, indulge your taste buds with festive coffee drinks and be transported to a world of spooky, delightful flavors. Let coffee add a touch of magic, whether it's a homemade recipe or a specialty drink from your local coffee shop.
Conclusion
There you have it, folks! A comprehensive guide to the spookiest and most delicious Halloween coffee drinks out there. From pumpkin spice to ghoulish pour-overs, these beverages are sure to satisfy your caffeine cravings while adding a touch of Halloween spirit to your celebrations.
As a coffee enthusiast myself, I cannot stress enough the importance of embracing the spirit of Halloween through festive coffee drinks. These beverages have the power to bring people together and create memories that last a lifetime. So, whether you're hosting a Halloween party or simply looking to enjoy a spooky drink at home, don't hesitate to try these brews!
Thank you for joining me on this caffeinated adventure. Happy Halloween and happy sipping!
FAQs
Q: What are Halloween coffee drinks?
A: Halloween coffee drinks are special coffee concoctions that are created with spooky themes and flavors to celebrate Halloween. These drinks often incorporate festive ingredients and decorations to enhance the Halloween spirit.
Q: What kind of Halloween-themed coffee drinks can I try?
A: There are numerous Halloween-themed coffee drinks that you can try. Some popular options include pumpkin spice latte, ghostly white chocolate mocha, vampire blood caramel macchiato, and wickedly good espresso martinis. These drinks are not only delicious but also add a spooky twist to your coffee experience.
Q: How can I make spooky coffee drinks at home?
A: Making spooky coffee drinks at home is easy and fun. You can start by adding Halloween-themed syrups or sauces to your regular coffee. You can also experiment with different flavors and spices to create unique and exciting concoctions. Don't forget to add festive decorations like whipped cream ghosts or spiderweb latte art for an extra touch of spookiness!
Q: Where can I find Halloween coffee specials?
A: Many coffee shops and cafes offer Halloween coffee specials during the Halloween season. These specials can include limited-time flavors, discounted prices, or festive promotions. Check with your local coffee shops to see if they have any Halloween-themed offerings or keep an eye out for special promotions on their social media channels.
Q: Are Halloween coffee drinks only available in hot versions?
A: No, Halloween coffee drinks are available in both hot and cold versions. While hot versions like pumpkin spice latte or hot chocolate are perfect for warming up during chilly Halloween evenings, cold versions like iced pumpkin spice latte or cold brew coffee are great for refreshing and chilling Halloween drinks.
Q: Can I customize Halloween coffee drinks to my taste?
A: Absolutely! Halloween coffee drinks can be easily customized according to your tastes and preferences. You can adjust the sweetness, strength, or even the spooky decorations to suit your liking. Feel free to experiment and create your own unique Halloween coffee creations!